FAQs
Competitions
How do I enter?
---
You can enter the competitions using our online form on the 'enter competitions' page.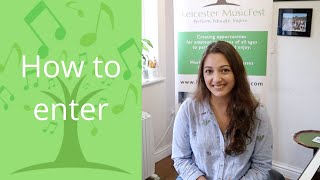 ---
Which competition class should I enter?
---
For each instrument, our competition classes are graded from beginner to advanced. You should enter the class(es) that align with your current performing level. Singing classes are also divided into 'Art Song' and 'Stage & Screen' categories, with each category having a Junior and Senior division. Enter the classes right for your age and the musical genre of your song. If you are eligible for more than one class, you can enter as many as you like. The entry form will guide you through this. You are also welcome to enter multiple separate competitions (e.g. singing and piano, or organ and classical guitar). Take a look at our walk-through video: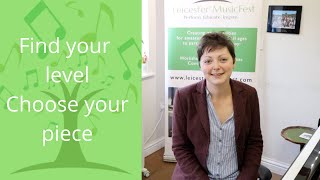 ---
How do I know what grade I am?
---
For musicians taking regular graded exams, simply use your most recent graded exam result to decide which class to enter. If you're not taking regular graded exams but do have regular lessons, ask your teacher for help choosing your equivalent grade level. If you're still not sure, don't worry, just get in touch with us and we will help you choose the right class. Take a look at our video for more on finding your level.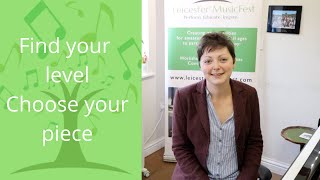 ---
What piece shall I perform?
---
It's best to choose music that you enjoy and feel comfortable with, which also fits the syllabus requirements for your class. If you are preparing for a performance or exam, this is a great opportunity to try out repertoire in front of an audience and get feedback from an adjudicator. If you're not sure of the grade level of your intended piece, we suggest asking your teacher, checking exam syllabuses, or contacting us for more advice. Take a look at our video on finding the right repertoire: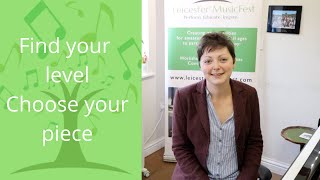 ---
Can I enter multiple competition classes?
---
You can enter as many classes as you like, including for different instruments. Just make sure you are eligible for each class you enter. The entry form will guide you through this. Please note that you cannot perform the same piece in more than one competition class.
---
Can I enter multiple people at once?
---
Our entry form can only accept one competitor at a time. However, if you want to make a bulk entry for multiple competitors, email leicestermusicfest@gmail.com and we can process this for you.
---
Do I need an accompanist
---
Unless you are singing an unaccompanied song, you will need a live piano accompanist. Live music is at the heart of everything we do, and our competitions provide a great opportunity to perform with another musician. We have a fantastic team of festival accompanists which you can book through the competition entry form. Alternatively, you can bring your own pianist to perform with you on the day - just remember indicate this option on your entry form. Take a look at our video on accompanists: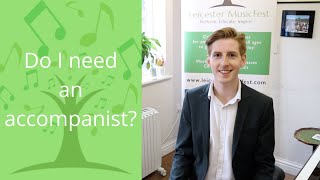 ---
Do I need a rehearsal?
---
There's no requirement to have a rehearsal - our festival accompanists are all experienced professionals who will help you feel at ease and give your very best performance. If you would like a rehearsal, it is often possible to arrange this, but availability may be limited. If you have opted for a festival accompanist, you will receive their contact details well in advance so that you can contact them. Rehearsal fees are not included in your MusicFest entry fee, so you will need to organise this privately with your accompanist. Take a look at our video on acompanists for more information: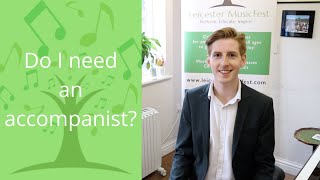 ---
What should I wear?
---
There is no formal dress code, so wear something comfortable that you are happy performing in. Singers are always welcome to incorporate costume items or small props if desired, but there is no requirement to do so.
---
When is the entry deadline?
---
The entry deadline for all competitions is midnight on the 10th of December 2021

G5 Deadlines
10th of December: Entry and first round submission deadline
3rd of January: Semi-final video submission deadline
15th of January: Semi-final streamed with adjudication
12th of February: Live Final 13th of February: Winner performs in the 2022 Gala Concert
---
Can I just watch?
---
Yes, you can purchase an 'Audience' ticket at the door on the day, or online in advance to watch the competitions. We love a live audience! Having an audience really changes the atmosphere of the room, and your applause helps make the performances feel more like a concert than a competition. It is a great way to hear live music, get ideas for pieces you might like to try out, and hear the expert feedback given by our adjudicators.
---
I can no longer attend - what should I do?
---
Please email leicestermusicfest@gmail.com to let us know if you are no longer able to attend the festival. Unfortunately, we are not able to offer a refund for competition entries.
---
What kind of feedback will I get?
---
You will always recieve written feedback from our expert adjudicators. You will usually also recieve verbal feedback at the end of the class, time permitting.
---
I've never done a competition before - can I still enter?
---
Our competitions provide a range of classes for anyone from a complete beginner to advanced performers, so whatever stage of your musical journey, there is a class for you. It can be daunting performing in front of people for the first time, but the audience and the adjudicators will be cheering you on to do well, so take the leap, relax, and make music!
---
Do I need to perform from memory?
---
Instrumentalists are not required to perform from memory, but you may do so if you prefer. Singers are expected to perform from memory, and you will surely communicate better with your audience if you aren't hiding behind a book! However, if you feel more comfortable to have the sheet music with you on stage on the day, this is permitted.
---
Can I use a photocopy?
---
You may perform using a photocopy, but a published/authorised edition of the music must be in the room during your performance. It is fine to give a photocopy to the adjudicators and/or your accompanist.
---
Am I too old to compete?
---
No! Each year we are delighted by the wide range of ages of musicians taking part in our compeitions. Instrumental classes have no age limit, and singing classes have senior classes (ages 16+) To date, our oldest competitior has been aged 89, and he performed on entirely equal terms with singers half his age (and less!).
---
I see your competitions are for 'amateurs' only - what does this mean?
---
Our compeitions are for anyone who is not a professional musician. We define a professional musician as someone who derives any income (no matter how small) from music, including teaching and performing. The exception to this is an organist who holds a church organ scholarship or similar - if this applies to you, get in touch to be sure that you still qualify.
---
What is 'Art Song'?
---
For our singing competitions, 'Art Song' is defined as any classical song type, including: Opera and Oratorio arias Lieder French Melodie Traditional Folk Songs 20th century and contemporary classical song Classical songs in other languages If you are not sure whether your song is an 'Art Song', get in touch via our ' Contact Us' page for assistance.
---
What is 'Stage & Screen'?
---
For our competitions we define 'Stage & Screen' as any song from any staged show/musical, or any song from film. If you are not sure if your song would be classed as 'Stage & Screen', get in touch via our ' Contact Us' page for assistance.
---
---
Workshops & Masterclasses
How do I apply to take part?
---
Find out which workshop or masterclass you are interested in, then follow the links to sign up or register your interest. Some events have limited places and may require a brief application or some info about you, whilst others are open to everyone anytime. You can always turn up on the day to watch, and may still be able to take part.
---
Can I just watch?
---
Yes! It is helpful for our organisers to get an idea of audience numbers ahead of time, so if you are interested in a particular workshop or masterclass, please do sign up or register your interest in advance. However, there is often space for you to turn up and watch on the day.
---
How much will it cost?
---
If you are under the age of 19, all workshops, masterclasses and concerts are free of charge.
---
---
Concerts
How do I buy tickets?
---
You can buy tickets online in advance via our 'Tickets' page. You can also buy tickets on the door, but, depending on the event, space may be limited.
---
Can I buy tickets on the door?
---
You can buy tickets on the door, but as space may be limited for some events, we recommend buying tickets in advance online.
---
Are there spaces for wheelchair users?
---
Yes, there are spaces available for wheelchair users. Please book your tickets online via the 'Tickets' page and then email leicestermusicfest@gmail.com so that we can allocate you a wheelchair space. One of our stewards will greet and direct you on arrival.
---
Will there be an interval?
---
Our longer concerts, such as the Gala Concert, have an interval where refreshments are available. Some of our shorter events will run straight through without a break.
---
Can I reserve a seat?
---
We usually have unreserved seating, so we advise you turn up in good time to get the seats you want. However, if you require a particular seat e.g. you need a wheelchair space or you need to be on an aisle etc, then you can email leicestermusicfest@gmail.com after purchasing your tickets to let us know your requirements.
---
Are there concessions?
---
Our concerts are free to all aged under 19. All adult tickets are heavily subsidised. Unless otherwise stated, please purchase a 'Day Ticket' for entry to all festival events on that day.
---
---
Facilities & Accessibility
Is there parking?
---
Yes, there is ample free parking at English Martyrs' Catholic School (our main venue).
---
Are there toilets?
---
Yes there are, including accessible toilets.
---
Is there a cafe?
---
Yes! Coming a close second to the music is our friendly festival cafe! We offer a range of hot and cold drinks, cold lunches and snacks (including our famous samosas) and a wide range of homemade cakes and biscuits.
---
Is the venue wheelchair friendly?
---
Yes, our venue has wheelchair access throughout, including wheelchair spaces in the main auditorium (contact us at leicestermusicfest@gmail.com if you would like to reserve a wheelchair space).
---
How will I know where to go?
---
Follow the signs to the main reception, where a steward (in a green t-shirt) will be able to show you to where you need to be.
---
---
Outreach
Can my school get involved?
---
Yes! We have already created a number of outreach and community events, and we want to keep expanding our reach to more schools. We have run workshops in schools, had schools involved in large scale concerts (including an opera production), and we welcome schools to our festival competitions, workshops and concerts. If your class would like to take part in one of our events, get in touch at leicestermusicfest@gmail.com - we would love to hear from you.
---
Can I book a music education event for my school/youth organisation?
---
Yes! As a music charity in a very difficult time for the arts, bringing music to the wider community is at the heart of what we strive to do. We have a range of tried-and-tested music education events suitable for schools, and are also happy to work with you on creating the right event to your school. We would love to hear from you. Email us at leicestermusicfest@gmail.com, or give us a call on 07538 727920.
---
---
Support Us
How can I become a volunteer?
---
Our festival simply wouldn't be possible without our wonderful team of volunteers. There are a wide range of roles available. If you would like to help out, we would love to hear from you. Fill out the contact form on our 'Contact Us' page, or email us at leicestermusicfest@gmail.com
---
How can I donate?
---
You can donate via the 'Support Us' page, or by cheque to: Leicester MusicFest 1 Eastwood Road Leicester LE1 8ND You can make a one-off donation, become a Patron or Friend, sponsor an event or trophy, or if you have something else in mind, we would be delighted to hear from you.
---
Can I sponsor an event or trophy?
---
Yes! Leicester MusicFest couldn't happen without the generosity of its sponsors. Each year we offer a variety of masterclasses, workshops and concerts, as well as the competitions which are judged by professional adjudicators. Event sponsors receive free advertising or credit in the Festival programme. If you or your business are interested in sponsoring an event, please get in touch with us via the ' Contact Us' page. We have been fortunate to receive a number of donated trophies, which are a wonderful symbol of recognition for the winners of our competition classes. Trophies can be engraved with a dedication of the donor's choice, typically in memory of a loved one or in tribute to someone living. If you are interested in donating a trophy, please get in touch with us via the ' Contact Us' page.
---
---